The second annual MOF workshop, "The 2nd Malaysian Metal-Organic Frameworks Workshop (MyMOF2018)" was held at Universiti Putra Malaysia from October 29 – November 2, 2018.
Associate Director Kyle E. Cordova and global science affiliate, Dr. Felipe Gandara, provided lectures on topics ranging from gas separation, water harvesting, heterogeneous catalysis, topological analysis, and crystallography with respect to all things reticular chemistry. The workshop consisted of lecture-style presentations as well as practical laboratory instruction, in which participants learned how to simulate structural models of MOFs and solve their crystal structures using diffraction data.
This workshop included local and international participants who are interested to learn and enhance their skills in the field of metal-organic frameworks (MOFs) research. The workshop approach is tailored to provide participants with the opportunity to obtain knowledge, skills and a solid understanding of the tools and analysis relevant to the field.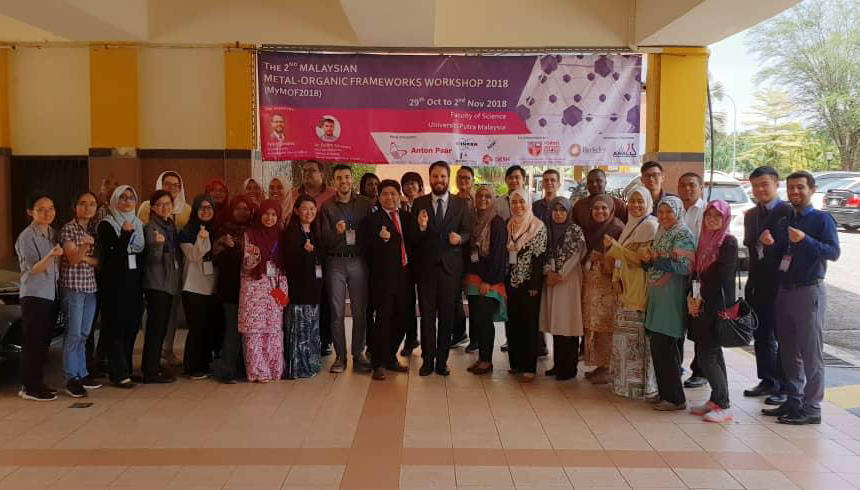 Featured Speakers
Kyle E. Cordova, University of California, Berkeley, US
Felipe Gándara, Materials Science Institute of Madrid, Spain
Topics Covered
Introduction to Reticular Materials
Carbon Dioxide Capture and Conversion in Reticular Chemistry
Water Harvesting using Reticular Materials
Background of Crystallography + X-Ray Diffraction
Structure Solution
Topological Analysis
SCXRD Instrument Training Introduction
SCXRD Data Collection Process and Strategy
SCXRD Refinement and Structure Solution
Crystallography Practical Exercises
Heterogeneous Catalysis in Reticular Materials
Topological Analysis Exercise
Hosting Organizations 
University Putra Malaysia
Berkeley Global Science Institute